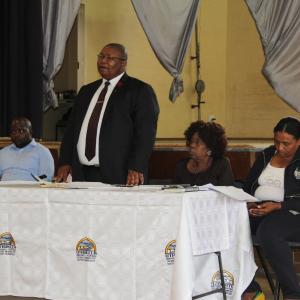 16 February 2018
UThukela District Municipality has embarked on the IDP 2018/19 public consultation meetings that were held over a five-day period from the 12th to the 16th of February 2018 in Alfred Duma, Inkosi Langalibalele and Okhahlamba local municipalities. The purpose of these consultations was to do community needs analysis so that by the time the municipality prepares the budget it will then factor in all those needs identified by the communities for the five year term of Council.
His Worship the Mayor Cllr AS Mazibuko, Deputy Mayor Cllr NW Sibiya and EXCO Member Cllr MV Khumalo as well as other Councillors and officials hit the road running consulting with the communities to get their views in order to direct resources where they are most needed. In all the three municipalities that were visited, attendance was full house and people participated very well in terms of listing their needs.
The Mayor clarified and explained to people that the core function of uThukela District Municipality is the provision of water, sanitation, disaster management and environmental health. Our task thus, is to make sure all households in the district have the proper functioning water and sanitation infrastructure. In simple term, government do not consider any project that does not appear on the IDP, hence we consult with the communities, said the Mayor.
The Mayor informed stakeholders that the district is faced with challenges of ageing infrastructure. He also said that there was a plan to have Water Boards in all provinces including the KwaZulu Natal province. The Mayor mentioned that the district have a responsibility of maintaining and upgrading existing infrastructure. This was also emphasised by Cllr Sibiya and Cllr Khumalo in other community engagement meetings held respectively.
This was the first round of the IDP public consultation process. During the months of April and May uThukela District will be going out for another consultation with the draft IDP and Budget for 2018/19 financial year. By so doing uThukela District is trying to improve communication lines between the municipality and the community so that both parties clearly understand what is going on in terms of budget allocation and community needs.