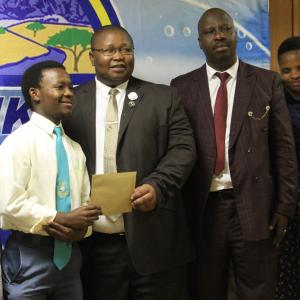 24 January 2018
UThukela District Municipality has once again contributed towards assisting learners from previously disadvantaged backgrounds to claim their right to education through the municipality's annual Bursary Programme. A total number of 51 new applicants and 24 returning learners from across the district were awarded bursaries to the tune of R 1 million during the event held at UThukela District Boardroom on Wednesday.
The event was hosted by the uThukela District Mayor Cllr AS Mazibuko, Deputy Mayor Cllr NW Sibiya and Alfred Duma Mayor Cllr MV Madlala on behalf of the municipality. Cllr Madlala said the first democratic president of the country, Dr Nelson Mandela once said: Education is the most powerful tool one can use to change the world.
This quote from Madiba always resonates in my mind when I think of the challenges that this country faces and the possible solutions around us. I chose to emphasis these powerful words by our struggle icon to highlight the importance of education in nation building, Cllr Madlala explained to audience. He told learners to always remember where they come from.
Delivering the keynote address, His Worship the Mayor Cllr AS Mazibuko said that although the municipality's core function is the provision of water and sanitation services, but it has extended its scope of operation and taken a great interest in education thus awarding bursaries to deserving learners from disadvantaged backgrounds.
The inception of this programme came about through the identification of needs to financially assist deserving learners to further their education and become professionals that can build our district. Through this programme, we put emphasis on the importance of local government playing a pivotal role towards building a strong local graduate professional base by providing much needed assistance to learners, said the Mayor.
The Mayor went on to say the municipality is planting a seed towards ensuring an improved level of the graduate professional base in the district. He said we can achieve this through ensuring that education­ remains at the apex of our priorities in moving the district forward, hence our bursary fund reflects this commitment.
In her closing remarks, the Deputy Mayor encouraged learners to always show respect and also urged them to pay attention to their studies. She wished the beneficiaries well in their endeavor and emphasised that the municipality will monitor their progress on a regular basis. The bursary fund aims to ensure development, with specific emphasis on the youth of the district.