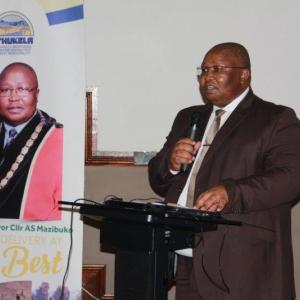 07 March 2020
Since the dawn of democracy, our country has achieved far-reaching political, economic and social changes, and shown an increasing commitment to sustainable development. With all these factors in mind, uThukela District Municipality organised a Strategic Planning session over a two-day period from 05 to 06 March in Champaign Sports Resort under Okhahlamba municipality. The key success criterion to this strategic re-positioning was an organisational form that will enable UThukela District to deliver on its strategy and mandate.
As the District Mayor Cllr AS Mazibuko alluded in his welcome remarks, the gathering therefore seek to brainstorm and strategise so that the organisation can be able to deliver services effectively. We will deliberate and assess the previous strategic plan to see how far we have gone in implementing those resolutions. We will take a cue from both the SONA and SOPA so that we are in line with the mandate of government moving in the right direction, said Mayor Mazibuko.
He went on to say that both the private and public sectors are important role players in making sure that we all move together in the same direction. We must also focus in attracting investments from outside, of course, working together with uThukela District Development Agency to achieve this. Our district is very rich in heritage and tourism but the worrying factor is the steady decline in number of tourists visiting our region. Our core function of water and sanitation should be prioritised to make sure that people have access to this basic service, alluded the Mayor.
The Mayor touched on a number of economic activities happening in the district as well as on the issue of land. He was, however, concerned about the state of the infrastructure which is ageing and negatively affecting many towns in the district. The Mayor then commented on the revenue issue which is a challenge when it comes to cash flow. Our people are poor while other have means but are just not willing to pay for services. The audit outcome clearly spells out is it that we need to do to get things right, the Mayor elaborated.
Speaking on the state of the institution, the Acting Municipal Manager Mr Zama Khuzwayo quelled any doubts that the people in the district might have against the Council by assuring them that it is committed to deliver services for all. His utterances were that the municipality gathered there to give effect of a better to the people. He said the Council had previously imposed water restrictions to deal with the negative effects of persistent drought. People of the district must feel positive impact of the work we are doing, stated Mr Khuzwayo.
All departments were afforded an opportunity to reflect on their own achievements, challenges, opportunities and identify gaps. Day two was facilitated by the Deputy Mayor Cllr NW Mchunu who recapped on all activities conducted by different stakeholders and departments. The session was attended by EXCO members, Councillors, Senior Management, Department of Water & Sanitation, uThukela District Development Agency, UBAC, Administrator, Traditional leadership, Audit Committee and officials.