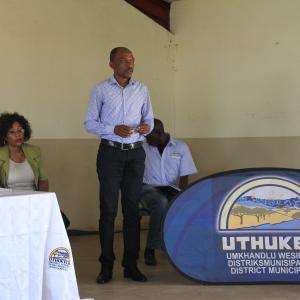 05 February 2018
The UThukela District Municipality EXCO Member and Chairperson for the Water & Technical Services Portfolio committee Cllr MV Khumalo accompanied by uThukela District Chief Whip Cllr S Dlungwane and Inkosi Langalibalele councillors introduced the contractors to install bulk water pipes in Ward 3 areas of Amangwe and Bhekuzulu outside Estcourt. This was done in order to complete the work of the initial contractor whose services were terminated by uThukela due to its poor workmanship.
In his opening remarks, Cllr Khumalo reminded the audience that South Africa is not a water-rich country, so when we talk about water we talk about a very critical issue. We are here today to introduce a contractor who is going to complete the work of laying bulk water supply pipes following the termination of services of the previous contractor due to its poor work, Cllr Khumalo explained.
He then encouraged the community to work together with the municipality in order for the project to be successful. He also urged the community to report any problems they may encounter with the contractor to proper channels in order to be attended to. Cllr Khumalo said uThukela has invested a lot of money in Inkosi Langalibalele municipality alone for service delivery than in any other municipality.
The contractor that will take over the work is Maxode Trading & Projects. The source of funding is coming from the Municipal Infrastructure Grant (MIG). The project is envisaged to create about 40 temporary jobs for the locals. It is also expected to take up to 12 months to complete. An amount of over R 20 million has been allocated for the project. About 15600 households are expected to benefit from the project in these areas.
Mr Xolani Zwane from Maxode Trading told the audience that priority will be given to the locals when they are hiring labourers. He said that his company also aim to develop local small businesses in order to benefit them from the project by sub-contracting them. Mr Zwane concluded by mentioning that they also offer training in order to equip and empower the locals with necessary skills and trade.